Goalrilla
Take your game anywhere
When you want to work on kicking it in the upper 90's, you need a real goal—not just cones and your imagination. A goal to work on all kinds of shots. A portable goal that helps you train whenever and wherever you want.
Introducing the GAMEMAKER. The authentic transportable goal that will take your game to new heights.
Choose your goal size
Authentic Playability
• Simulates the look and feel of a traditional goal
• Authentic size and shape
• Realistic bounce off posts
Transportable & Easy to Use
• Set it up in the backyard, take it to the field or use it indoors
• Ready to play in minutes
• Easy to inflate/deflate
Safe
• Built with flexible PVC tubing
• Safe in the event of goal post collisions or goal tipping
• No over-inflation
PLAY LIKE A PRO ANYWHERE WITH GAMEMAKER
The Only Authentic Transportable Soccer Goal.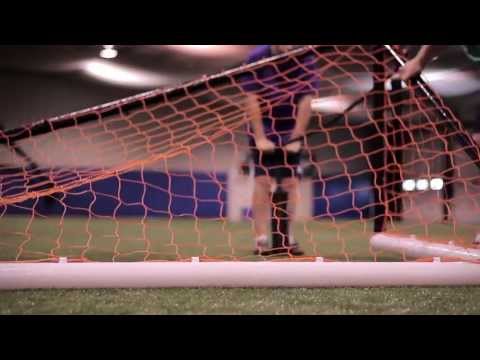 Soccer practice shouldn't be limited to your team's time on the field. To a pair of trees at the park. To a designated fence section in the backyard.
As a soccer player with big dreams, you need a real soccer goal. A sturdy target that lets you practice a variety of shots.
Goalrilla's GAMEMAKER soccer goal gives you all that and more.
This is everything you want in a soccer trainer: a real soccer goal that's undeniably safe… fully transportable… incredibly versatile. All in a soccer goal that's both portable and professional.
The Gamemaker reaches its full size within 90 seconds
AUTHENTIC
No other soccer trainer comes close to giving you the authentic in-game experience you need to play your best. Its authentic appearance and sturdy playability give you a realistic bounce off the goal posts. And more importantly—the confidence of playing like a pro.
With the GAMEMAKER, you'll be ready for anything: friendly one-on-one matches… tournament championships… and everything in between.
SAFE
Unique BaroForce™technology and flexible polymer tubing enable a rigid goal structure—without over inflating or being too unyielding. Players of all ages and skills can play safely.
It doesn't hurt your back or arms to carry, either. Two layers of high-tenacity polymers weave together to make a solid yet lightweight frame you can take anywhere.
TRANSPORTABLE
The GAMEMAKER sets up in minutes in the backyard, in the field or even indoors. In fact, it pumps up to its full size within 90 seconds. Take down is just as fast. So you can play or practice whenever—and wherever—you like.
VERSATILE
The GAMEMAKER comes in five different sizes plus a regulation Futsal size to suit every player's needs. It travels easily from home, to field, to park – for practice or for play.
Plus, it fits effortlessly in the back of any size vehicle. Now you can play like a pro everywhere you go.
TAKE YOUR GAME EVERYWHERE WITH THE GAMEMAKER
Choose the size that's right for you:
Baroforce Technology
Other Goalrilla Products