Goalrilla
Gamemaker
Choose your goal size
Authentic Playability
• Simulates the look and feel of a traditional goal
• Authentic size and shape
• Realistic bounce off posts
Transportable & Easy to Use
• Set it up in the backyard, take it to the field or use it indoors
• Ready to play in minutes
• Easy to inflate/deflate
Safe
• Constructed with safe, flexible PVC tubing
• Safe in the event of goal post collisions or goal tipping
• One accident is one too many
Take your game anywhere
with Goalrilla's transportable Gamemaker soccer goal.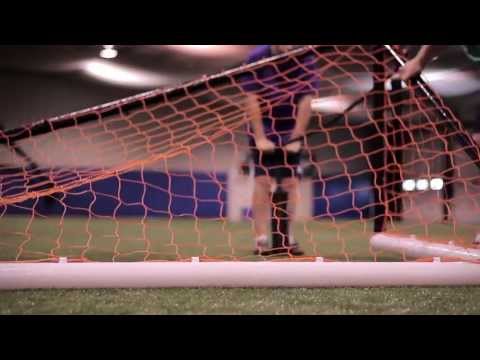 A soccer goal that lets you take your game everywhere.
When soccer players want to work on kicking into the upper 90s, they need a real soccer goal – not just two cones and their imagination. They need a sturdy target that lets them work on a variety of shots.
Players have been waiting for this: a real soccer goal that's fully transportable and undeniably safe. You can't find a more versatile soccer goal than the GAMEMAKER™ on the market today.
Designed with the authentic appearance and sturdy playability of a traditional steel goal, you get a more realistic bounce off posts – as well as the safety of flexible polymer tubing that inflates to maximum rigidity using BaroForce™ technology. All in a soccer goal that's both portable and professional.
The GAMEMAKER sets up in minutes in the backyard, in the field or even indoors. In fact, it pumps up to its full size within 90 seconds, and take down is just as fast.
BaroForce™ technology enables a rigid goal structure and prevents over inflation. Two layers of high tenacity polymers weave together to give the unique frame its solid, yet lightweight characteristics.
The GAMEMAKER comes in five different sizes and travels easily from home, to field, to park – for practice or for play. Plus, it fits effortlessly in the back of any size vehicle.
The Gamemaker reaches its full size within 90 seconds
Baroforce Technology